Once you start looking up alumni that have made it big, it's hard to stop. This path I'm on is nothing short of an addiction and I hope you enjoy reading this as much as I do looking for it. The guilt that I have though, if I leave someone out or that I'm just cutting and pasting much of it from other sites is sometimes a bit much (thanks mom for that baggage) but I feel it's more important to shout in
Heorot
all the amazing things our alumni have done.
In this section I have two musicians that I may have placed in the
Alumni in Music
Section, however they have made their mark more on the stage and screen than in the pop realm where others were placed therefore Douglas Pipes and John Van Houten are listed here.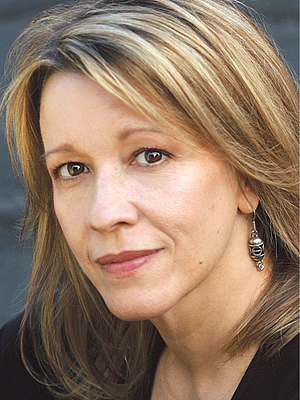 Linda Emond
Linda Emond
Linda Emond:
Emond appeared in the Broadway productions of the musical 1776 (1997) as Abigail Adams and in Yasmina Reza's play Life x 3 (2003), for which she received a nomination for the 2003 Tony Award as Best Featured Actress in a Play, as well as stared as Linda Loman in the Broadway revival of Death of a Salesman, which opened on March 16, 2012 opposite Philip Seymour Hoffman.
Emond's film and television roles include Simone Beck in 2009s Julie & Julia, Georgia O'Keeffe (2009) a made-for-television film for Lifetime, and as Abigail Adams in American Experience: John and Abigail Adams for PBS. In 2009 she played the role of Mary Ann McCray in the Hallmark Hall of Fame television presentation of A Dog Named Christmas. She has also appeared in the Law and Order television series and the series The Good Wife. Emond has also been a reader for audiobooks, including recent recordings of 206 Bones by Kathy Reichs and Another Thing to Fall by Laura Lippman. You can find more info on her site or through internet movie database
(imdb.com)

Darren Kelly
Darren Kelly (class of 69) who played Harold Hill in Loara's production of The Music Man pursued an acting career, and could be found in the 70s on the day-time soap opera, "All My Children". Later he was also seen in an episode of "MASH".
http://www.imdb.com/name/nm0446301/
Robin Tosawi - Marshall
Robin Tosawi-Marshall (class of 80) has been a casting director and Native American consultant on many film and television projects. She came out of retirement to a consultant to Ron Howard's remake of the Alamo.
http://www.imdb.com/name/nm1506461/
Douglas Pipes
Douglas Pipes
Douglas Pipes
Douglas Pipes is a film music composer whose best known work to date is the 2006 soundtrack to Monster House. His loud, brassy instrumentations have drawn comparisons to action-music composer guru Alan Silvestri and his other orchestral-music composer counterparts Michael Giacchino, J.A.C. Redford and Joel McNeely. His chance encounter with Gil Kenan at UCLA California made him the perfect composer for this astounding soundtrack and composed the music on his short film The Lark.
Douglas grew up in Anaheim near Disneyland, and played in a number of local bands in Orange County, California. These include the Wahdels, the Instigators, and Pipes & Drums. His most recent work is the score of the recent horror film Trick 'r Treat.
http://en.wikipedia.org/wiki/Douglas_Pipes
Steven M. Porter
Steven M. Porter
(75), another Music Man cast member, has had roles in nearly a dozen movies and several television series, including a supporting role in an episode of "The X-Files".
John Van Hout
John Van Houten
John Van Houten
John Van Houten is an American orchestral tuba player. He is most notable for playing in various film soundtracks. John is a freelance tubist in the Los Angeles area. Some of the ensembles he had performed with include theLos Angeles Philharmonic, the Los Angeles Opera, the Long Beach Opera, the New West Symphony.
His performing experience also includes phonograph recordings with such diverse artists as Burt Bacharach, Elvis Costello, Carly Simon, and Alice Cooper, in addition to television shows (such as Alias, The Simpsons, Futurama, American Dad, Family Guy and King of the Hill), records, jingles and a wide variety of motion pictures, such as Mission Impossible, Crimson Tide, Dracula,Species, Virtuosity, Mars Attacks, Murder at 1600, The Thin Red Line, Men in Black, X-Men, Dude, Where's My Car, Pearl Harbor, Swordfish, Legally Blonde, Collateral Damage, Planet of the Apes, The Core, Daredevil, Piglet's Big Movie, The Hulk, Pirates of the Caribbean, Paycheck, Hollywood Homicide, The Chronicles of Riddick, The Day After Tomorrow, Spiderman 2 and 3, The Incredibles, Ratatouille, UP and Star Trek.Van Houten has also served as music contractor/orchestra manager on numerous films, commercials, video games, and live orchestral productions. He also has taught and teaches at several universities and colleges in the Southern California area, including
UCLA
,
California State University, Long Beach
,
Azusa Pacific University
,
Cerritos College
,
Biola University
,
Pasadena City College
, and
Irvine Valley College
.
Often you can find John sitting in the Loara band room helping out future musicians find there place.
http://en.wikipedia.org/wiki/John_Van_Houten
Karen Washburn
Karen Washburn, (77) Senior Class Vice President and lead in the that year's play is now the radio personality 'Karen Kelly' at Buckeye Country, 106.5 FM in Miami Valley, Ohio <
www.buckeye1065.com
>.
Gregg Wood
Woody & Wilcox
Woody found his voice as a major radio personality, currently he and his radio partner have formed
Woody and Wilcox
in Charlotte North Carolina after a few stints in Southern California, Alaska, Georgia and Utah. You can here him on
106.5 The End
at least at the writing of this blog.